Congratulations!
The Upson Downs have been
inducted into the
Iowa Rock and Roll Hall of Fame

A wonderful weekend of old friends, families and good-for the soul music, was celebrated during the Labor Day 2010 Induction of the Upson Downs to the Iowa Rock and Roll Hall of Fame in Arnold's Park, Iowa. Rusty Davis, Terry Klein, Kevin King, George Arnold, Mike McCormick, Gary Swanson, John Mogen, Al Klein Jr., Chuck Spavin, Tim Obert and Tim Horseman were presented with achievement placks recognizing their contribution to the rich history of Iowa Music. Below are some photos of the event. What a great time!
Click on link to view Iowa Rock and Roll Hall of Fame website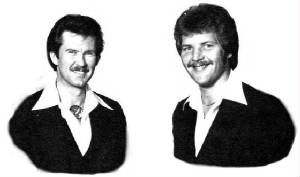 Upson Downs Now On FaceBook. You can now find them online and leave memories, messages or questions about the upcoming induction. You will find them under Upson Downs. Add them to your Friend list today!
| | |
| --- | --- |
| Video Clip Montage of 3 Season Reunion shows | Onstage at Okoboji's Lakes Art Center- Celebration! |
Pictured in 2005, the group posed with highest bidder of their

limited edition concert collage. Proceeds were donated to the Iowa Rock and Roll Museum in Arnold's Park, Iowa.

Rusty and Terry were each inducted into the Hall of Fame in 2000.

For Booking information or to inquire about schedules, please click on this link >

Lots of friends and fans braved the high winds and downpours to visit the State Bank Plaza Stage where we made our home for 3 days. With only 30 minutes to perform, it seemed a world away from the Art Centers' 2+ hour shows! By Sunday afternoon, the guys were remarking that the summer sure had gone by fast . Thanks to our stage mates, "The Advocates" who brought such style and substance to the weekend. See you down the road guys!

Several Publicity Shots Taken Thru the Years
The Upson Downs have CD's and DVD's perfect for your collection or for gift giving.
The Upson Downs Back to Boji Concert DVD, and the Remember the Redwood Double DVD are
available now. Cost is 19.95 plus 3.00 shipping. Their Double length CD and Boji Blue Eyes/Back to Boji pairing
are 19.95 plus 3.00 shipping. Click on link below to email your address or send your check or money order
made payable to Experience Shows, Inc.. Your product will be shipped upon receipt of your payment.
Email Link to Order your selection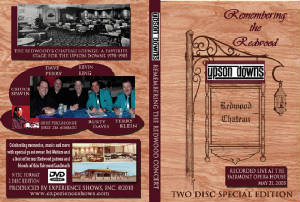 Full Concert Plus Extra videos and photo gallery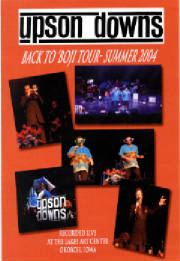 2 Hour Concert DVD- 19.95 Mailed to You!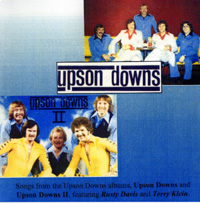 Double CD Available. 19.95 Mailed to You!