Hello From West St. Paul Club
NEW MEETING TIME....NEW MEETING TIME....NEW MEETING TIME
The Optimist Club meets every 1st and 3rd Wednesday afternoon
at Dunham's Food and Drink, Lothenbach Ave., Just south of Rainbow Foods.

Time of meeting is now 5-6:00 PM. New members are always
welcome to attend.
Optimist Of the Year Award!
Pictured below is the 2010 Optimist of the Year-

Moreland Elementary Chess Club Coach
Bill Heinemann and members of
the Optimist Club of West St. Paul

The Surprise Patrol visited our winner at Moreland Elementary.
Pictured are Optimist Club President Don Harens,
Vic Tedesco, Cheryl Bergstrom, Bill Heinemann,
Darlene Lewis, Chuck Spavin and Ken Kane.
It was a perfect day for a parade

and our winner waved to the crowd lining

South Robert Street from the back of a

stunning white Corvette convertible.

Optimist of the Year Bill Heinemann
OPTIMIST CLUB FIRE SAFETY VIDEO
Thanks to South Metro Fire Department for helping us film this important safety show.

It originally played on Town Square Television during October-Fire Prevention Month.

You can see the 9 minute demo here and forward it on to others.
HOLIDAY SHOWS MAKE GREAT GIFTS

The 5th,6th and 7th Annual Holiday Shows are available for your enjoyment or for holiday giving. Each show is unique and lasts 1 hour. Great music, beautiful scenes and lots of positive holiday fun. Each DVD copy is 10.00 and helps support our continued projects for youth in West St. Paul. Mail request with payment to Experience Shows, Inc. , PO Box 612, So. St. Paul, MN 55075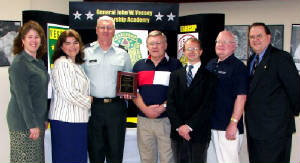 Members of the West St. Paul Club make a surprise presentation
to our 2007 winner- SMG Donald Vance, instructor at the
Vessey Leadership Academy.

2008 District Spelling Bee Finals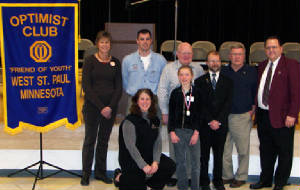 Scroll down for complete results of this year's bee
We have donated space to this Community Service Organization until their permanent site is online. Check out contact information, Spelling Bee details, Optimist of the Year award, and ordering info for the Holiday Show.
Contact them by phone @ 651-437-6542; email- kcivory@aol.com; or by mail- Optimist Club of West St. Paul, 1019 Felix Street, West St. Paul, MN 55118.